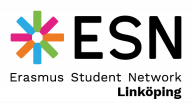 Welcome to ESN Linköping
ESN Linköping is the local section of one of the biggest student volunteer associations in Europe. ESN Linköping is a non-profit and non-governmental organisation.
ESN Linköping works for all coming to Linköping for exchange, currently studying or a local student of Linköping University.
ESN Linköping consists of 13 board members and 3 Committees. Every year the members are elected in the spring for a mandate of one year while committee members are elected each semester.
Read more about us? Please click here.
Read more about Our Committees ? Please click here.
We invite both Swedish students, and international students that have lived here for at least a semester, buddies for our incoming students. As a buddy
Read More »
The annual meeting has been held and we are happy to announce the newly elected board of ESN Linköping 23/24 for all required vacant positions.
Read More »